I've been an analytical chemist for a long time. For most of my life, I was a professor at Central College. These days, I freelance and right now I'm finishing up a study at Big Rock Park in Pella, Iowa. It has a little creek running through it, totally natural in some places and filled with concrete slabs to prevent erosion in other spots. The creek runs though a west Pella neighborhood. Houses boarder the creek on one side and a farm on the other. The friends of Big Rock Park wanted to know if the water was clean and safe for wading. Kids love to wade there and hike to the rock to climb it and take cheesy photos.
I started the study not sure what I'd find. One delight was that paper and strip-based color tests, like the ones you use to test an aquarium or swimming pool, have expanded significantly. Paper strip tests were one thing I worked on for my PhD thesis long ago. (Click here for more on my laboratory past.)
For my current project, I made a little laboratory stockroom in a portion of my study and I was all set to go—much like computers getting smaller, so did my lab. Small portable meters such as for dissolved oxygen and dissolved solids became available during the course of the study. The ease of testing allowed me to engage the public, even kids, with water testing.
The results in the end aren't surprising. Whatever people put on their land ends up in the water. When salt goes on the roads in the winter, it ends up in the water. When people fertilize their lawns, it ends up in the water. It's surprising how fast the fertilizer shows up.
One twist to my study which I should have expected but didn't is that the overwhelmingly most concentrated and persistent pollution was bacteria—particularly E. coli. This bacteria, coming from fecal matter, showed up in early May and persisted through December. Farm run-off has been pin-pointed as a source of this and many other pollutants.
As a water chemist and a chemist in general, I'm in favor of the Waters of the United States or WOTUS Clean Water Rule. As I said before, what goes on the land ends up in our water. We must protect it.Regulated substances include all sorts of chemical and biological hazards including those which "cause death, disease, behavioral abnormalities, cancer, genetic mutations, physiological malfunctions (including malfunctions in reproduction) or physical deformations, in such organisms or their offspring." Substances which might cause lower oxygen levels in the water, which I did see at Big Rock Park, are regulated and the ruling calls for increased fines for spills as well as more money for "enforcing spill prevention measures, reviewing spill response plans, inspecting spill containment and cleanup equipment."
WOTUS has met with some puffed up resistance.
As part of WOTUS, these waters are protected: Navigable waters, Territorial seas, Interstate waters, Impoundments (dam created reservoirs such as Lake Red Rock), and Tributaries
Adjacent wetlands and additional waters are also considered WOTUS if they meet either the "relatively permanent" standard or the "significant nexus" standard, meaning they are likely to affect the other protected types of waters.
Here's an illustration, also shown below, credit to Sarah A. White of Clemson University.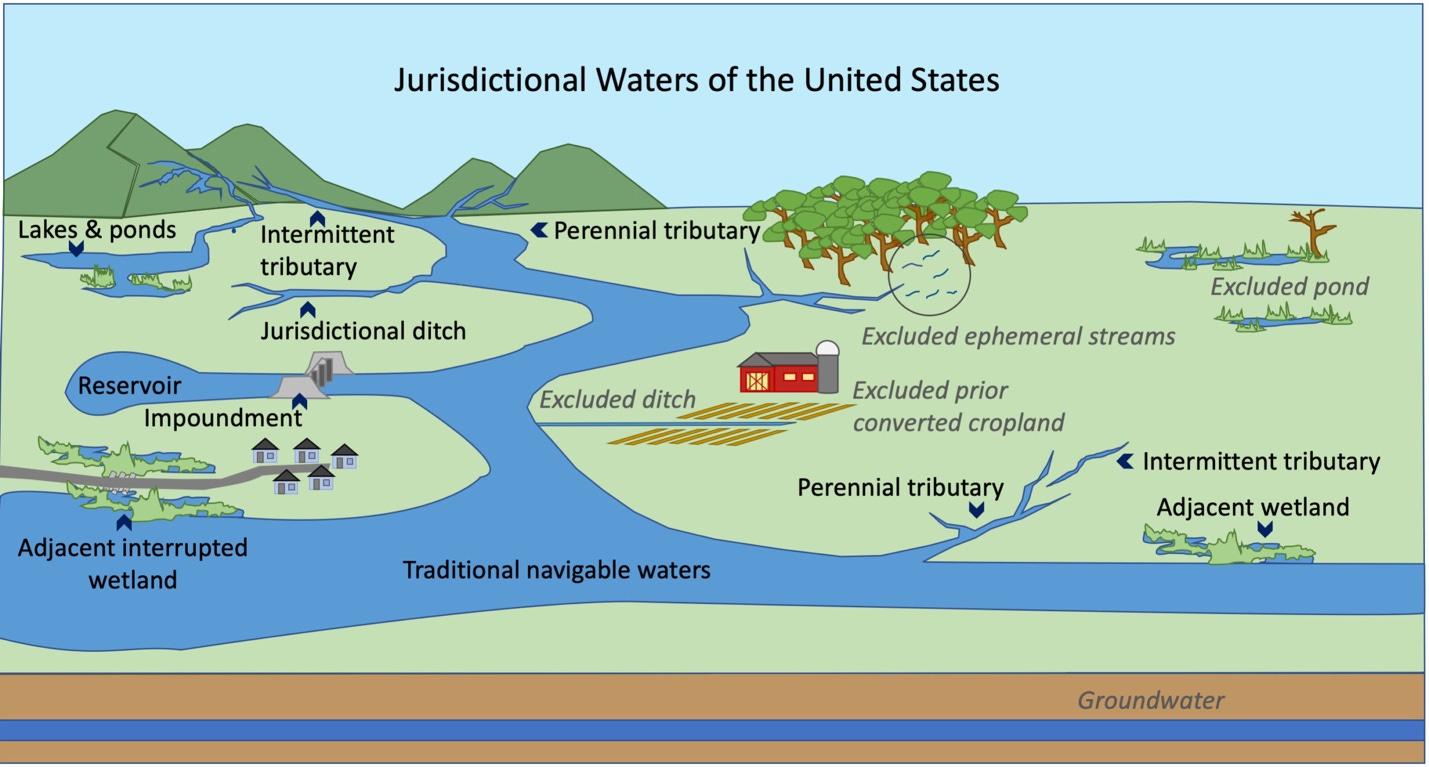 These waters are exempt : prior converted cropland, waste treatment systems, ditches, artificially irrigated areas, artificial lakes or ponds, artificial reflecting pools or swimming pools, waterfilled depressions, and swales and erosional features.
WOTUS covers less than the Obama-era rule but more than the Trump-era rule. It would include the Everglades for example and intermittent streams. Big Rock Park's creek would fall under this as it dries up at times of drought, as shown in the photo below.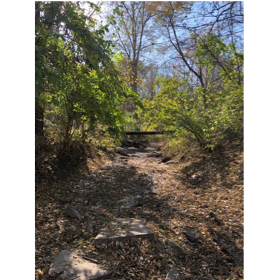 A downpour filled the creek bed and brought all sorts of leaves, sticks, and trash, showing how vulnerable these intermittent creeks are.
The new rule has human health as a focus and looks at both microbial (such as E. coli) as well as chemical pollution. Not only is it projected to lower the cost of clean water, it looks to avert future problems such as pipe corrosion as in Flint, Michigan, where road salt contributed to corrosion. It also supports fisheries.
WOTUS is a good rule which doesn't go quite far enough in my opinion.
Being mad about WOTUS is more showmanship than anything. Its controversy is unfounded and made to stoke resentment of rural people, who suffer cancer at a high rate and need to be protected. In the meantime, enjoy our local park. Be sure to use hand sanitizer after touching the water, especially after manure applications on farm fields makes its way into local waters.